Stephen has dedicated his life to making jewellery, beginning his career with a diamond setters' apprenticeship to a leading diamond setter at the age of 20. He did this for five years before he went on to work for one of London's top jewellery makers, where he accumulated an in-depth knowledge of creating diamond jewellery. By his early twenties, Stephen had a wealth of knowledge and experience that some would be lucky to gain in their whole career.
Continuing to increase his expertise, Stephen progressed into creating and designing jewellery himself with first-hand insight into the requirements of up-market consumers who appreciated quality – and expected to pay for it.
Now, Stephen sells jewellery via retailers only, creating pieces that appeal to the high-end jewellery market. Through his trusted reputation and high-quality rings, Stephen Foster has many famous international retailers among his client-base, including some of the biggest names from Bond Street and Knightsbridge in London. 
Stephen has maintained such levels of success through being receptive to the evolution of public taste through the lifestyle and fashion changes of the last four decades, continuing to produce popular collections. With a perfectionist temperament and innovative nature, Stephen and the entire business remain to focus on and prioritise the creativity of its pieces. And, although he may no longer personally fashion items himself, Stephen's eye for detail ensures that every Stephen Foster design is beautifully crafted, with love, delicacy and passion. 
We design and make our rings in London and they are all set by hand. We have our own team of goldsmiths and setters and all the diamonds and coloured precious stones we use are are handpicked by ourselves in our office.
We use F-G colour, VVS-VS quality diamonds. We work with 18ct yellow, white, red gold and platinum. All of our rings are London Assay hallmarked. Our clients appreciate the bespoke service we offer them and of course the bespoke finished piece!
As we make everything ourselves, you don't have to conform to what you see. "When it comes to creating fabulous diamond jewellery, you simply have to have a passion for detail. Every piece needs to be distinguished as much as by brilliant craftmanship as by the imagination of the design."
Vivian Becker, Harpers and Queen
The root of our success lies with our family orientated culture and experience, with every Stephen Foster ring being carefully and meticulously crafted. All rings are available in Platinum or 18ct yellow, white or red gold, and quotations can be given for most styles.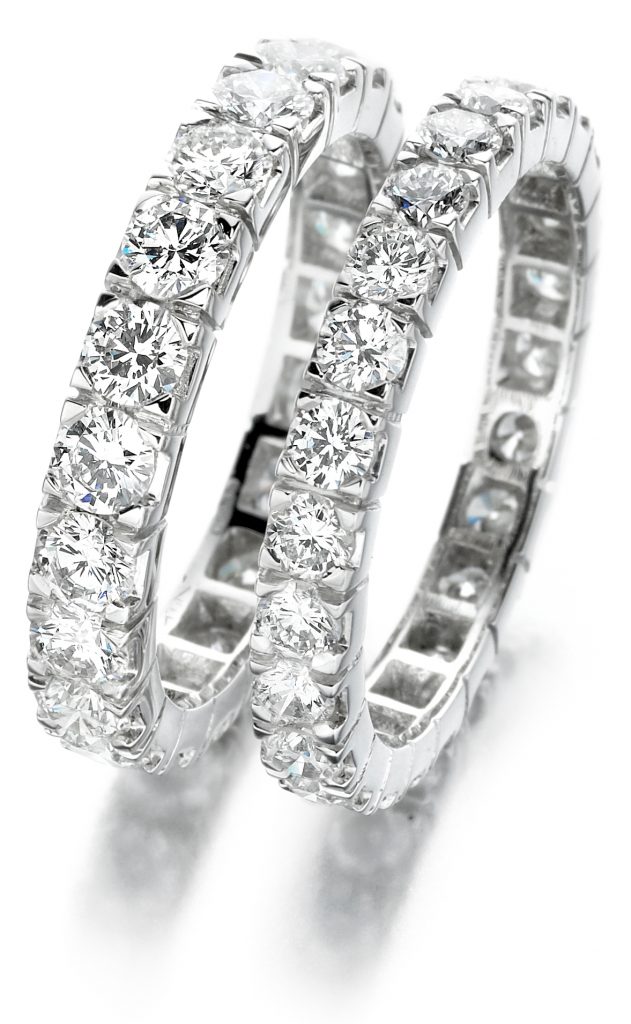 We have a huge variety of rings available in our collections to ensure that we have the perfect design available to suit each individual. Please contact us to view our range.